As a DaVinci — a creative person juggling many ideas, projects and talents — you have a lot of reasons to be grateful.  Are you someone for whom gratitude is a daily practice?  Or is it more something you contemplate when Thanksgiving rolls around?
If you're in the latter group, you are missing out on a powerful tool. Expressing gratitude can
* help you feel better about your circumstances — whatever is going on
* combat frustration or a sense of being overwhelmed
* shift your focus to the here and now (rather than fretting about the future or regretting the past)
* elevate your mood
* improve your relationships,
* balance your life and more.
One of my professional heroes is M.J. Ryan, author of Attitude of Gratitude — a seminal book on the topic. She contributed a wonderful story to my co-authored Happiness book that demonstrated 'blessings in disguise'.  The punchline:  some gifts come wrapped in sandpaper.
Take my friend Luisa for example.  She underwent simple day surgery and things went horribly wrong.  She went into anaphylactic shock and almost died. Doesn't sound like much of a gift or blessing, does it?  But when Luisa unwrapped the metaphorical sandpaper, she found plenty.
"Well this experience certainly did wake me up," she wrote me recently.  "I am no longer complacent or bored.  I am grateful for the people in my life and mindful of how I treat people.   Normally we keep birthdays pretty quiet,  I decided then and there that I was never taking another birthday for granted.   We had 35 people here to help me celebrate my 50th last July.   I joined the gym, and am getting very active.  Enjoying life and renewing old friendships and nurturing the existing ones….I just joined a yoga class and am going to sign up for conversational Italian. (I am aiming to be fluent enough for a future trip to Italy)."
Here's the even better news:  you needn't wait for a brush with death to be grateful for all that's in your life.  And to reap the many benefits of gratitude.
It doesn't matter what's going on in our lives — there's always *something* for which we can be grateful.  We're breathing.   We have water to drink.  We have food and shelter.  We are smart, creative, multi-talented beings living interesting lives. Starting with the basics and expanding gratitude for every bonus we experience is a powerful practice.  It casts our lives in a more positive light.  It shifts our focus to what's working well, rather than what's not.  It imposes a more accurate perspective on whatever is happening.
Daily gratitude begets more of what we love in life. The more we appreciate certain aspects of life, the more we foster them.
Try it and see — every day for the next week, write down ten things for which you're grateful.  Aim for ten different items every day. Watch whar happens.
*****
 Activity:  every day, for the next thirty days, write down ten things for which you're grateful.  (For maximum effect, think of ten new items every day).
***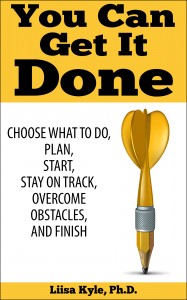 Want more tips and techniques on getting things done?  Check out my book  YOU CAN GET IT DONE:  Choose What to do, Plan, Start, Stay on Track, Overcome Obstacles, and Finish.  Available here for only $3.99: http://bit.ly/YouCanGetItDone
***
Want to re-publish this article? Go for it – just include the author's name, a link to this original post and the following text blurb:
Are you struggling with too many talents, skills, ideas? You may have The DaVinci Dilemma™! Find tools, fun quizzes, coaching, inspiration and solutions for multi-talented people at http://www.davincidilemma.com/ .