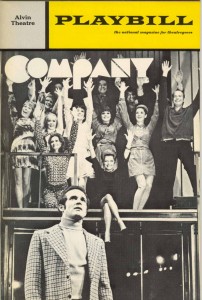 Gotten your creative work rejected? Had a project derail? Don't despair…it may reincarnate better than you imagined.
Last night, I saw a local production of the Steven Sondheim musical Company. Only here's something I didn't know: the play didn't originate with Sondheim. In the playbill, I learned that George Furth, best known as nebbishy bit character actor, wrote the original script for the play in the 1960s. At that point it was called Threes and it wasn't even a musical. Furth was very proud of it, and it was headed for Broadway. But funding for the production fell apart and the project was shelved. Naturally, he was dejected.
Later, the play came to the attention of Steven Sondheim, who thought it could make the basis for a musical comedy about the complexities of relationships in the 1960s.
Company the musical ended up giving us songs like "The Ladies Who Lunch" and "Being Alive", forever defining a generation of sort-of-happily married and unmarried people, and winning George Furth a Tony Award for best book of a musical.
It's safe to say that had Threes gone forward as a straight play, most of us today might never have heard of it.
So, when someone shoots down your baby, remember, you're in good "Company".  There may be something much better in store. Just think of George Furth.
Here's a clip from the concert version with Neil Patrick Harris and the NY Philharmonic in 2011 — 41 years after the Broadway premiere.

Has a pet project of yours ever died, or has something in your creative life or business seemed stymied…and has it turned out to be a blessing in disguise? Please share below!