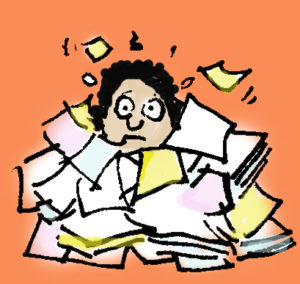 Clutter purges around the new year just seem natural. But what if you did it all year long, as a habit? That's what my friend Jennifer does, and she's one of the most creative and multi-talented people I know.
I just got off Skype with Jennifer. She was calling in from Cartagena, Colombia.  Last time we chatted, she was in Argentina. (Or was that the call from Vietnam? ) We discussed the screenplay and the book she is writing, and then the conversation turned to her travels. We both agree that getting out of your own petri dish is a great way to get creative. She is usually in some exotic place for months at a time, or planning her next trip.
One of the things that makes travel so freeing for both of us is that you've only got exactly what you need with you, and nothing else. Clutter is just not allowed. In fact, while I'm pretty disorganized and cluttered at home, with the detritus of creative projects strewn everywhere and multiple sets of colored pencils and markers (I keep buying more because I forget what I've got…and they're so pretty), on the road I am as anal as they come. And invariably, I have my best ideas without all that stuff around. When I went on my solo retreatin Sedona last year, I only brought what I needed for that one project, all neatly organized, and I almost cried with relief. As a DaVinci, I tend to accumulate so many things — the accoutrements of a million and one projects and crafts.
Jennifer doesn't just not bring a lot on her trips. She gives away pretty much anything she does bring, right down –on her last stop –to her favorite jeans. She figures the item has given her all the pleasure it should and it's time to pass it on to someone else who can really appreciate it. Many times she is in poor countries where something she has used and loved for years are someone else's newly prized treasure. She describes the joy she spreads just by letting go of things instead of jamming them into her suitcase.
As I looked around my full-to-bursting living room with dismay and felt jealous of Jennifer's detachment from her possessions, she suggested that I give away something to everyone who comes to visit. That I go "shopping" through my stuff and look for things that someone I know might love. Even if it's something I'm concerned "I might need someday."
It's tough, but it might be worth a try. After all, it's the bargain of the century, giving someone else joy with something I've been taking for granted. And maybe someday, I won't have to leave home to feel free.
Activity: Pick one room or one set of items in your home (such as books, art supplies, etc.) First, are there any duplicates, or items you've been saving for "someday"? Set those aside.  Books you've read already, or have not gotten around to reading for over six months?  What about those magazines? Now, imagine someone who might love to have these things that, for you, are really just taking up space (physical and mental). Those magazines and extra art supplies would make an underfunded second-grade teacher's day. The books would be a blessing to a retirement home, or you can make a game of matching each of them with friends and family who would love it and sending it on its way.  The point is having a picture of the happiness you could give, just by giving up something that's actually providing less value to you than it could to someone else.
Want to re-publish this article? Go for it – just include the author's name, a link to this original post and the following text blurb:

Are you struggling with too many talents, skills, ideas? You may have The DaVinci Dilemma™! Find tools, fun quizzes, coaching, inspiration and solutions for multi-talented people at http://www.davincidilemma.com/ .