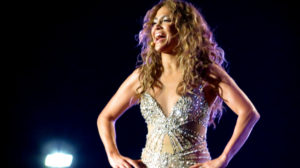 OK, so it's not exactly a "smackdown". But it is an important question.
I recently spent a week on solo retreat in Las Vegas (and yes I do know how contradictory that sounds!)  working on the DaVinci Dilemma book and other aspects of my business.
While I was there I got to see Celine Dion in concert — her 1022nd to be exact.  Right down the Strip, Jennifer Lopez was also putting on her own show. It struck me that these two powerhouse performers had taken a very different approach to their craft and career. While Celine Dion had devoted her time to one talent — singing — JLo had pursued many at once (at last tally, acting, dancing, designing fashion and more, including singing).
So which is better? And more to the point, which is better for YOU? Here are a few questions to help you decide:
Do you love any one thing THAT much?
I could tell that Celine Dion just LOVES singing and performing… so much so that doing the same show night after night after night never gets boring, and she never "mails it in". She finds her fascination in the small variations of experience — different audience reactions, for example —  and in the constant never-ending improvement of her craft, what the Japanese call "kaizen." Could you be that passionate about any of your talents? You may just have to try it and see. Passion is not one of those things that can be predicted. Or you may know already that there is nothing right now that you would be willing to drop everything else for.  That's good information, because without passion, specializing can't last. Willpower and commitment on their own have a pretty short shelf life.
Are you more about mastery or about experience?
Do you care if you get to be the very, VERY best at any one of your talents? Or would you be satisfied with being pretty darn good at a few…in a way that may add up to something more, even if that something is just an interesting life? In general (but not always, see J.Lo) the mastery route is a safer bet for career and fortune building. If your core value is more about adventure and sampling everything, you might feel stifled as a specialist even with something you love. My career as an advertising creative director would probably have been a lot more profitable had I not decided to stay in France for 11 years. But then I would never have had that experience, learned a language, made so many fascinating friends, learned watercolor painting… or gotten to sing and dance at Disneyland Paris. (See photo!)
How do you FEEL?
If you are stressed out by how many things you have going on and the lack progress in any of them, it's no way to live. You might consider specializing at least for a while, until you've got one plate really spinning. On the other hand, if you feel energized, if one activity informs and gives added creativity to the others, and you enjoy the freshness and "break" you get from bouncing among projects, then great. Only you can know how much you can tolerate before your multi-talented lifestyle goes from creative to oppressive. Sometimes there is just one thing too many, and scaling back just a little will get you into your sweet spot.
I explored this topic a lot more in one of my very first Facebook Live videos! It was a fascinating conversation, that you can still join on the replay.
Activity:  Check out the video, and add your comments about specializing vs. pursuing many things. We really want to hear what you think, and your own tips for managing your talents for your most fulfilling life.