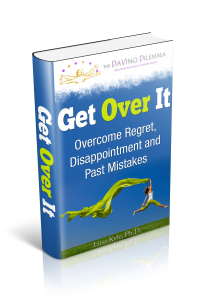 Are you dwelling on past regrets, disappointments and perceived mistakes?
Do you berate yourself for things you did (decisions you made, actions you took, opportunities you attempted, your perceived 'mistakes', etc. – "if only I wouldn't have done X…") — or things you didn't do (missed opportunities, paths you didn't follow, things you didn't say when you had the chance, and so forth)?
Are you punishing yourself with 'coulda woulda shoulda' thinking?
Do you fret about how things might have turned out differently 'if only' you would have taken a different course of action?
You are not alone.
Everyone experiences regrets and disappointments in life.  Everyone makes mistakes.
What differs is how people deal with them.  Some people acknowledge what happened, learn what they can from it and move on.  Some of us have a harder time letting go.
It's natural to feel sad, upset or angry about negative things that happen.  Maybe even have a brief little pity party.  But there's a limit.  The longer you stew or fret, the heftier the toll you're taking on yourself and those around you.
Regret keeps you stuck in the past and siphons off your hopes for your future.  You feel like 'it's all ruined'…and that hopelessness blinds you to what's possible now.  You are missing the new opportunities that are arising around you all the time.  Helen Keller said "When one door closes another opens. But often we look so long so regretfully upon the closed door that we fail to see the one that has opened for us."
If you are spending too much time and energy thinking about the past — beating yourself up for what did or didn't happen — you're squelching your present contentment and wasting energy you could be spending on activities that will enhance your future. And let's be candid — how pleasant are you to be around when you're bemoaning your regrets?
If past events are affecting your life today — or hindering your future — you need to Get Over It.
Feel that tightness in your neck and shoulders?  Hear that nagging, negative voice in your head?  Imagine the relief if that was gone.  Imagine how much better you'd feel if you'd get over what happened and move on with your life.
The solution
You can do it.  You can overcome your regrets and disappointments.  You can Get Over It.
In coaching smart creative people over the past fifteen years, I've helped them deal with regrets, disappointments, 'mistakes' and missed opportunities using tools, techniques and remedies that work.  Based on this work, I've written a book to help you Get Over whatever is holding you back. In it you will find proven techniques and practical tools to do just that — solutions tailored for DaVincis like you.
In it you will learn:
* how past regrets, disappointments and mistakes are affecting you today
* how to shift your focus from the past to the present
* how to change your perspective on what happened
* how to forgive yourself and others for what happened
* how to let go of what happened
* how to move forward with your life
Please check out my new book, Get Over It! Overcome Regret, Disappointment and Past Mistakes.  Available here for only $2.99:  http://bit.ly/getoveritbook  And it's free for Amazon Prime members.