[Editors' Note:  In the wake of Roger Ebert's death, we are republishing this article that honored his perseverance.  He was an indefatigable writer, an inspirational optimist and a DaVinci who will be deeply missed].
When things aren't going the way you'd like — when you encounter rejection or apparent failure — it can be challenging to keep going.  This is especially true for DaVincis — multi-talented people juggling diverse projects — because rejection in one arena can damage motivation in our many other activities.  Really, the only way to change rejections or 'failures' into successes to keep trying — to persist. To persevere.  Now sometimes, your dedication to a project is so passionate that you don't think twice about persisting.  But should your perseverance wane, it's helpful to consider examples of when others have persisted.
Consider, for example, when film critic Roger Ebert won the fabled  New Yorker Cartoon Caption Contest.  "So what," you may think.  "He's a smart guy.  A Pulitzer Prize winning journalist.  Big deal."  What's interesting about it is that he failed in his first 106 attempts.  It wasn't until his 107th entry that he finally won.  It's an unexpected story of persistence — of perseverance.  And it's not as if Roger Ebert doesn't have other things going on.  He's a multi-tasking syndicated columnist and blogger who hosts an annual film festival and writes books.  He's published a cookbook, for heaven's sake, even though he's now unable to eat.  Actually, that's another pretty awesome display of persistence and perseverance in itself, no?  When Roger Ebert's cancer robbed him of the capacity to eat solid food he went ahead and wrote the cookbook he'd always wanted to produce.
Roger Ebert is not alone.  Woven into most success stories are tales of perseverance and the power of persistence. Consider these examples:
* Colonel" Harland Sanders' infamous chicken recipe was rejected 1,009 times before he found a restaurant to accept it.
* although Emily Dickinson only had a handful of poems published during her lifetime, she kept writing…leaving almost 1,800 completed works
* it took Thomas Edison over 1,000 tries to perfect the light bulb.  He has been quoted as saying "Results? Why, man, I have gotten lots of results! If I find 10,000 ways something won't work, I haven't failed. I am not discouraged, because every wrong attempt discarded is often a step forward."
* Winston Churchill lost every election for public office in which he ran…until age 62 when we became Prime Minister of England.
* for the early part of her career, Lucille Ball was denigrated as a 'B' movie star and a lousy actress.  She persisted and eventually created an extremely successful television career.
* Jack London's first story was rejected six hundred times before the author of Call of the Wild and White Fang finally found a willing publisher.
* R.H. Macy's first seven businesses failed before he created a successful enterprise in the form of Macy's department store.
*     *      *
Activity:  Think of an instance in which you persisted.  What was the experience like for you at the time?  How did you continue on?  What were the benefits of persisting?
Activity:  What's something currently on your plate that would benefit from your persistence.  What can you do to encourage yourself to persevere?
***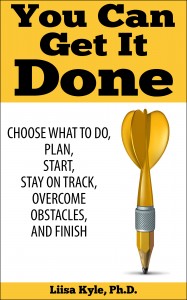 Check out my book  YOU CAN GET IT DONE:  Choose What to do, Plan, Start, Stay on Track, Overcome Obstacles, and Finish
***
Want to re-publish this article? Go for it – just include the author's name, a link to this original post and the following text blurb:
Are you struggling with too many talents, skills, ideas? You may have The DaVinci Dilemma™! Find tools, fun quizzes, coaching, inspiration and solutions for multi-talented people at http://www.davincidilemma.com/ .