We DaVincis can get a lot of out of acknowledging those who support, inspire, teach and guide us.  One of our most popular articles here at DaVinci Dilemma  extolled the benefits of expressing gratitude to one's heroes — be they famous or not.   Sure, it's easier and perhaps more natural to thank people we actually know — and it's equally important to reach out to those we don't.
"Why bother?  This accomplished person hears praise all the time — my two cents don't matter," you may argue.  "It won't even register."  Possibly.  However my experience has been that (a) no-one receives "too much" praise and (b) it's less about the impact on them as the impact on you.  When you reach out to a hero, you are acknowledging their talents as well as your own aspirations.  When you compliment someone you admire, you are focusing attention on what you'd like to cultivate in yourself.
Besides, it's just good manners to say 'thank you' to people who give you something.  So why not express appreciation for the artists who entertain, educate and inspire us?
For me, it comes most naturally with authors.  When I finish the last page of a book I enjoy, it's an automatic next step to send the author my appreciation. I started doing this in high school with a snail-mailed fan letter to Margaret Atwood.  Her reply, on creamy paper now framed and hanging in my office, is a tangible link to someone I respect, admire and value.  At the time, sending a letter was a way of articulating how much I wanted to publish books too, someday.  Now that I have published, the letter still serves as a beacon for improvement.  Plus, on challenging days, it soothes me to look over and see the typed over characters and Atwood's distinctive, loopy signature.  It's validating to know that once upon a time, this woman of letters sent a letter to me.
Of course, this was back in the days of yore when people corresponded on paper.  It's a little different now.
It's easier.
Thanks to email and social media, it's remarkably simple to reach out to those we admire.  We can follow them on Twitter.  We can post praise on their Facebook pages.
When Roger Ebert died recently, one small consolation for my sadness was that I had expressed my admiration to him directly.  When I emailed him to praise Life Itself, he responded.  We engaged in a little exchange that I treasured, given all he had going on.  I cherish it more, now that he's gone.
Earlier this week it was Nick Hornby, talented screenwriter and author of novels including High Fidelity and About a Boy.  I confess I'm in the midst of a major upheaval — simultaneously selling a house in California, buying a home in Seattle and organizing all the details of the 1000 mile move.  I'm doing my best to reduce stress — and the technique that is most effective for me is to read good books.  Especially when I wake up in the middle of the night, my head spinning with 'to do's'.  As it happens, Nick Hornby books are witty and interesting and wonderfully written…and a perfect salve for stressful times. Accordingly, I sent him a gushy electronic note professing my gratitude for his work. He was kind enough to reply — a true treat for me — and yet that really wasn't the point. I wanted to thank him for his work because his writing makes me feel so much better during this challenging time.
Again, it's only polite.  When someone helps you through a tough time, of course you thank them.
I think it's easier with authors because there is this sense of intimacy from holding someone's work in your hands for hours.  It seems to forge a deeper, more personal connection. As opposed to, say, watching a great film. It's difficult to disseminate appreciation to the 2, 543 people involved in the making of a movie.  But you *can* praise the folks who's work made the deepest impression — the cinematographer, that character actor who made you smile, the composer who's soundtrack made you cry. It's easy to look up relevant credits on IMDB and simple to find these folks online.
Most artists in most media have some web presence. Same for our heroes in business, science, politics, education or any other domain.
I encourage all DaVincis to contact and praise their heroes — if not for their sake, then for yours.
*****
Activity:  Who are your heroes?
Activity:  How can you express your appreciation to your heroes?  How can you reach them online?
Bonus activity:  Do  it.  Send some electronic praise to people you admire.
***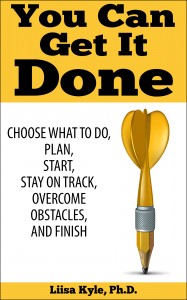 Check out my book  YOU CAN GET IT DONE:  Choose What to do, Plan, Start, Stay on Track, Overcome Obstacles, and Finish
Available here for only $3.99: http://bit.ly/YouCanGetItDone
***
Want to re-publish this article? Go for it – just include the author's name, a link to this original post and the following text blurb:
Are you struggling with too many talents, skills, ideas? You may have The DaVinci Dilemma™! Find tools, fun quizzes, coaching, inspiration and solutions for multi-talented people at http://www.davincidilemma.com/ .