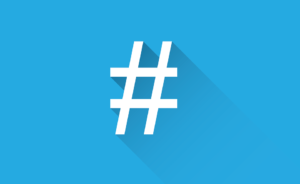 When working on a creative project, isolation can be a problem. No one like-minded to talk to or bounce ideas off of? Not so on Twitter.
Lest you think Twitter is a random jabberwocky of of Tourette- style outbursts of opinion, quotes, spam and what people have eaten for lunch (hopefully not spam) you should know that a number of organized conversations about serious and creative topics are happening on a regular basis on Twitter.
I speak of hashtags.
On your phone, the sign is inexplicably called "pound". On Twitter, hashtags magically highlight and separate out discussions that matter to you. A website named hashtags.org started this as a way to get more specific interests on Twitter. Now hashtags have allowed whole communities to sprout around super-specific interests.  These conversations can be among just a few like-minded souls, or a whole rave of folks interested in the same thing and eager to talk about it.
Best of all for DaVincis, there 's a plethora of Twitter hashtags for creatives that allow us to find our tribes, share our ideas, hone our crafts and even vent our spleens.
Artists, writers, musicians: find your conversation
Not surprisingly, since Twitter involves words, there is a large selection of Twitter hashtags for writers. Screenwriters, novelists and childrens' book authors can all get in their respective conversations.
The best screenwriting hashtag based group for my money is #scriptchat wonderfully run by @jeannvb (real name Jeanne Bowerman). Not only do they meet every Sunday (with separate chats for US and Euro time zones!) but there is a place to download the script or material that will be discussed before the chat. Guest Tweeters from the film world are often invited to participate in or even lead the chat.
More general writers' groups are #amwriting, #writegoal, #writers_life, #writers, #writing as well as the more motivational and productivity-oriented #wordcount, #wordathon and #creativity.
Need an answer from a literary agent? Twitter greases the skids. Just add #askagent to your tweet. (But make your request respectful and intelligent or you may end up being cited in #agentpeeves. ) For more great Twitter groups for writers and readers, check out this recent article.
For musicians and music lovers, there's #musicmonday, #freemusicfriday, #musicarte, #musictherapy, #ilovemusic #musicians2follow and many more.
For artists, #keepartalive is meant to "Inspire artists and creatives, as well as open a dialog between art admirers and the art community" .
For crafters, #etsy and others can put you in in real-time conversation from beading to pot-throwing.
Some Twitter groups chat all day, every day. Others, like my personal favorite, #scriptchat,  have specified meeting times. To find current dates and times for chats, do a search of a hashtag in Twitter. Usually the moderator will post chat times to let interested people know when to join.
How To Find Hashtags
One of the best tools for finding tags is Twubs.  You can view the most popular listings on the front page or by category. Since many of the hashtag names are not self explanatory, there is also a site called Tagal.us which keeps definitions and distinctions going between what hashtag means what.
Get creative in 140 characters.
Some hashtags inspire you to actually be creative in real time using Twitter. #micropoetry a sort of electronic haiku, encourages poems in 140 characters or less. Reading it inspires all sorts of philosophical thoughts, and contributing is a fun and challenging exercise. #beoriginal encourages inventors and cretives of all stripes to brainstorm your best innovative ideas. #Shakespalin (started after Sarah Palin referenced Shakespeare in one of her tweets) gives tweeters the chance to "quote" Palin in the language of the bard, with some pretty creative and funny results. #storystarters posts first lines of novels or short stories — a great read or a neverending source of writing prompts.
Start your very own creative tribe instantly.
No one's talking about what you want to talk about? Have an idea for a fun creative challenge or thought-provoking conversation? Just start using your own hashtag and invite your friends to join in. While not required, a best practice would be first to register your tag.   Just go on Twubs and click "Register Your Hashtag!", enter your tag into the box, and click Check Availability. Registering a hashtag minimizes the likelihood of using a tag that is already taken, as well as preventing others from using your tag. This helps avoid confusion and more than one conversation on the same "channel".
Activity: Pick one of the hashtags mentioned in this post (or find another on www.talla.us or www.twubs.com ) and spend 30 minutes reading and joining in the conversation. The easiest way to do this is to do a search on Twitter, or head to www.tweetchat.com and search for the tag.  If you use a Twitter client like Hootsuite or Tweetdeck, you can create a column for your favorite hashtag so you can check in — and pipe up — periodically.
Got a favorite hashtag on Twitter or other ways you commune with your peeps via social media? Share your tips and questions below!
If you'd like to share or publish this article, you may, if you include the author's name, a link to this original post and the following text blurb:

Are you struggling with too many talents, skills, ideas? You may have The DaVinci Dilemma™! Find tools, fun quizzes, coaching, inspiration and solutions for multi-talented people at http://www.davincidilemma.com/ .