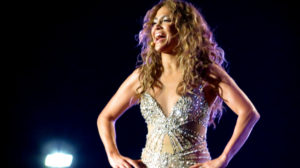 Singer-dancer-choreographer-actress-producer-designer-parfumier Jennifer Lopez is a DaVinci diva after our own hearts. Starting out as a dancer, and later adding acting, music and fashion and perfume lines to her roster, J-Lo is one of those DaVincis who somehow seems to manage to do it all at once. Now that she is also a wife and mother, she's finally slowed down just a little — her recent hit romantic comedy "The Backup Plan" is her first movie in a while. She credits strict self-discipline and her husband's support for helping her to do it all.
Still, her mind is always at work on her many projects and it sometimes gets her in trouble. In an interview in Cosmopolitan Magazine, she confessed, "My worst habit is that while people are talking, I will already be thinking three other things. It's rude. Sometimes if the person is very in tune and they notice, they're like "Where are you right now?"
One thing to love about Lopez is that she doesn't seem to let her creative missteps faze her. Not every movie she's done has been successful (remember Gigli? Nah, me neither) and she famously took a fall during  a performance at the AMA Awards, but hit or miss, she's kept her sense of humor and never broken her stride.  The ability to move on is one big thing that keeps this multi-talented mom always moving toward her creative goals. See an excerpt of Lopez's  interview with Ellen DeGeneres here .
*****

If you'd like to share or publish this article, you may, if you include the author's name, a link to this original post and the following text blurb:
Are you struggling with too many talents, skills, ideas? You may have The Da Vinci Dilemma™! Find tools, fun quizzes, coaching, inspiration and solutions for multi-talented people at http://www.davincidilemma.com/.