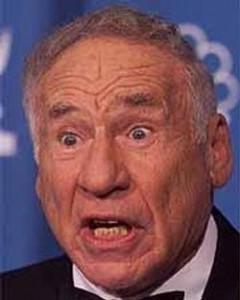 Most people know Mel Brooks from his canon of comedy movies Blazing Saddles, Young Frankenstein, The Producers and many more. What many of his fans do not know is that Brooks' creative life  almost took a whole other course. He studied drums with the drumming legend Buddy Rich growing up. Rich thought young Mel was a prodigy and was grooming him to follow in his footsteps. When Mel heard the siren song of comedy writing, Rich warned him he was making the mistake of his life giving up a promising career in music to mess around telling a bunch of stupid jokes. And the rest is history (as in History of the World Part One, another of Brooks' hilarious movies).  Brooks says that Rich never forgave him.
Still going strong at 84, Mel Brooks is a true DaVinci. He's not only a prolific director and comedy writer (he began writing gags for the 60s TV show Your Show of Shows and co-created the 60s sensation Get Smart), an actor and a stand-up comic with his enduring character the 2000-Year-Old Man, but also a composer/arranger/lyricist, writing all the songs for the hit Broadway productions of The Producers and Young Frankenstein.
For Mel Brooks, it took walking away from a career in music to free himself to express all his talents in his own way. It worked for him, making Brooks one of the only people in history to win an Emmy®, a Grammy®, an Oscar® (for best original screenplay for the film The Producers) and a Tony® (for Best Musical for the show)…and he's not done yet. Hear a great audio interview with Mel Brooks about his early career here.
*****

If you'd like to share or publish this article, you may, if you include the author's name, a link to this original post and the following text blurb:
Are you struggling with too many talents, skills, ideas? You may have The Da Vinci Dilemma™! Find tools, fun quizzes, coaching, inspiration and solutions for multi-talented people at http://www.davincidilemma.com/.